Sunbrella Spectrum in Singapore
Developed for the Singapore InDesign show, Sunbrella Spectrum is a 3D expression of color and texture. Made of suspended cubes covered in a variety of brightly hued Sunbrella upholstery fabrics, Spectrum is an installation that invites visitors to explore, get lost in the shapes, and experience textiles in a new way. Playing with shape, color, and form, the experience reflects the color and dimension found in Singapore architecture.
"You feel like you are part of the shapes when you walk into the structure."
-Spectrum visitor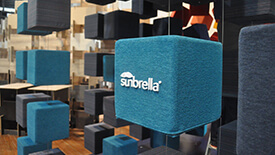 Watch guests experience Sunbrella Spectrum.