Sunbrella Spectrum w Singapurze
Instalacja Sunbrella Spectrum przygotowana na pokaz InDesign w Singapurze to trójwymiarowa prezentacja faktur i kolorów. Instalacja Spectrum składa się z wielu wiszących sześcianów, pokrytych tkaninami tapicerskimi Sunbrella w intensywnych kolorach. Instalacja zaprasza odwiedzających do zagubienia się wśród form i odkrywania tkanin w zupełnie nowy sposób. Doświadczenie to opiera się na grze kształtów, kolorów i form, nawiązując jednocześnie do barw i rozmiarów architektury Singapuru.
"Wchodząc w głąb tej struktury, czujesz się częścią tych form".
-odwiedzający instalację Spectrum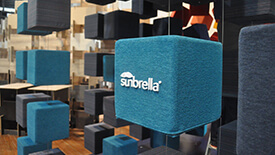 Zobacz wrażenia odwiedzających Sunbrella Spectrum.