Design Trends for the New Decade
2020 is a year of sustainable minimalism with a splash of colour. The focus has shifted from maximalist design back to the basics, highlighting function and form. Indian consumers are looking to infuse personality into their space while maintaining a living space that is soothing yet can perform in everyday use. Sunbrella spoke with designers across the country to bring you the top design trends in Indian homes this year. Take a look and get inspired!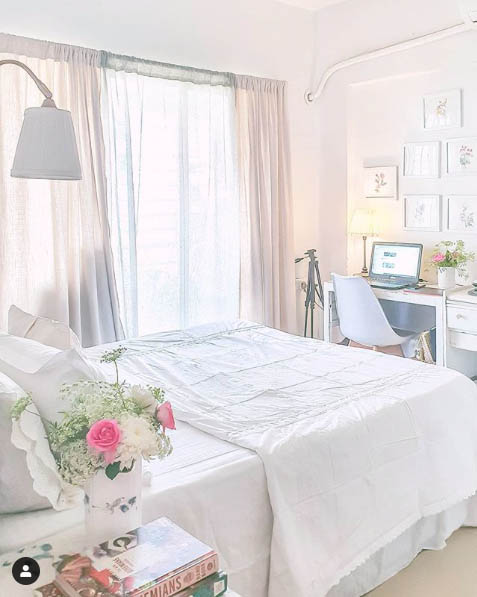 Minimalism
The first standout trend falls in line with a global shift toward a minimal lifestyle. Minimalism places a focus on functionality and purpose in Indian homes. The classic Indian designs with bright colours and ornate furnishings are shifting toward simplifying spaces. While we predict there will always be an infusion of traditional elements used in India home decor such as wood carvings, mural paintings and sculptures, the way they are incorporated is changing. Instead of heavy layering of these elements in a single space, these elements will be intentionally incorporated, following a global trend of mixing old and new. This places importance on how that element functions in a more minimalistic setting.
Consumers are creating living spaces for comfort and convenience in a world of clutter and chaos. Minimalism keeps a focus on openness throughout Indian home design, looking at how areas within a home flow together to create distinct purpose. An added appeal of minimal design? The ease of everyday maintenance. With less furniture and clutter, homeowners have less daily upkeep allowing for a more simplified and serene environment.


Try basic fabrics like Sunbrella Level Pumice for a simple yet textured material. Mix in Sunbrella Essential Coal for added contrast in your space. Both fabrics provide a great foundation for minimalism in your home.
Colour
In 2020, we continue to see neutral colour palettes show up in Indian homes. Colour choices are trending toward soft, light, cozy palettes. Designers and stylists are sticking with soft toned fabrics as a base for their spaces and layering in a splash of colour through accents such as throws, decorative pillows, or wall decor.
"Today's New India needs designs that are minimalistic, simple, functional, flexible, and comfortable. The choice of colors (is) much softer, lighter, cozy natural color palettes," notes Harsha BR, Interior Designer at HBR Studio.
A neutral palette does not translate to a boring space, and the design industry is finding ways to keep neutrals interesting. Specifically, we are seeing designers create a base using light colours on larger furniture pieces and accenting with a splash of colour. Essentially, it becomes that one element that balances the simplicity and creates interest. This is one way homeowners can incorporate a traditional element such as a wood carving that is culturally rooted which curates a feeling of nostalgia.


Looking for the right fabrics to start your transition to neutrals? Fabrics like Sunbrella Cast Pumice and Sunbrella Essential Flax offer tranquil colours for the foundation of a design palette. Choosing performance fabrics ensures that your furnishings can withstand daily use and are easily cleanable, to prevent staining from occurring on the light fabrics.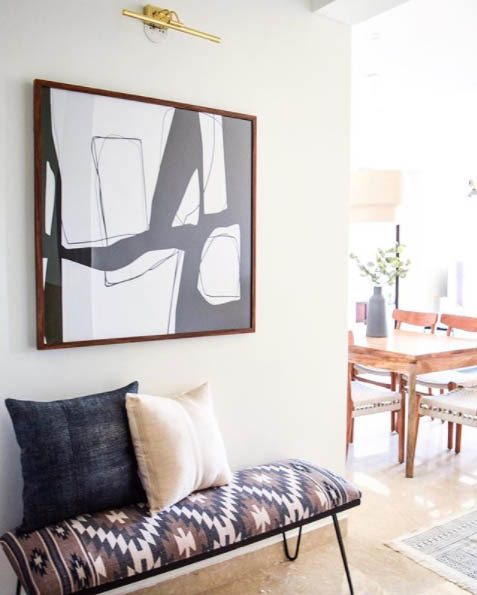 Pattern
To offset a monochrome or neutral palette, design trends in India are also highlighting the incorporation of patterns in neutral colour palettes to add interest. Pattern mixing through the high contrast design makes for a more dynamic room scape. Interior Designer, Ranjani S from IBR Designs says, "To make it more interesting add pattern mixing of high contrast designs with neutral palettes." Designers are layering in this way to create a focal point that draws attention without being overbearing. Ranjani notes, "The usage of geometric patterns will be everywhere soon!"


If you're looking for a geometric pattern with personality and a pop of colour, try selecting Sunbrella Resonate Sangria or Sunbrella Array Caribbean.
Sustainability / Biophilia
2020 brings even more natural elements indoors. As consumers are becoming more health conscious and environmentally aware, we see a shift toward choosing sustainable materials, products and processes in home decor. Indian consumers are integrating sustainable practices when redesigning their homes, such as incorporating solar power, rainwater harvesting and striving for green construction techniques.
Performance fabrics are a good choice because they are inherently longer lasting and move away from "fast furniture" trends. Sunbrella is a sustainably manufactured material that you can feel good about putting in your home, knowing that you will have it for years to come.
In addition to sourcing sustainably, interior designers are helping homeowners in India to infuse spaces with a feeling of the outdoors, with biophilia continuing to be a prominent indoor feature. Designing with abundant greenery in interior spaces echoes the natural environment. This trend has staying power as the combination of neutral colour palettes mixed with greenery sets a serene atmosphere, and the green tones add a nice, natural pop of colour to neutral palettes.


Looking to bring green into your space without adding plants, try a natural green fabric like Sunbrella Essential Pine or Sunbrella Cast Moss. These earthy tones will bring the serene feeling of the outdoors into your living spaces.
Incorporating India's 2020 Design Trends will help you craft a home design that is restful and purposeful. Sunbrella fabrics allow homeowners to infuse personality into their space while maintaining a functional living space that performs in everyday use. To see more design trends, follow @sunbrella on social media.
-->